Efficient Vendor Management System

Manage vendors with ease

Our VMS system is the easiest vendor management software to use on the market…

Unlimited everything
No matter how many vendors, users, or documents you have it is still the same low price…

Security

Your data and user experience will be safe and sound…  Security and backups are our #1 priorities!

Review and expiration notifications

Get notified when a contract is going to expire or the next vendor is ready to be reviewed…

Stay compliant

Compliance, compliance, and compliance… Our VMS software makes that process simple!

Easy Export
Easily export your client data at any time to a .xls, .csv, or an xml file.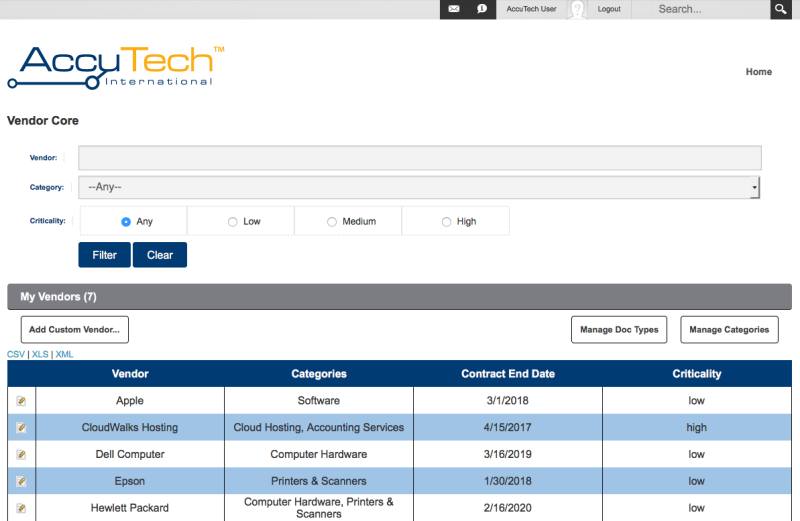 Brands that trust us What is Vendor Core?

Vendor Core is vendor management made easy… A straightforward and easy application to manage your vendors. Our vendor management software for credit unions, banks and other industries helps you manage vendor information, documents, compliance, contract expiration, annual review reminders, and more…
Get started with Vendor Core.

Sign up is quick and easy…  Click on the link above to start the process.  Once we receive your request, your free 30 day demo site access will be emailed to you.  You prefer it personalized ?  Send us your logo too.

Thelma Dasho, CEO
"Our credit union has been using Vendor Core for over five years now.  It makes it so easy for us to keep track of all of our vendors in one convenient location. We absolutely love the notification reminders for an upcoming contract expiration or just an annual review for a vendor. We highly recommend Vendor Core to any organization that wants to save time and money…"